Multiple in stock – Fanuc M-6iB Robots
The Fanuc M-6iB is a compact six axis industrial robot that is used for robotic welding applications. Payload:6.00kg, Reach:1373.00mm, With Rj3iB or R-30iA Control
Unit Includes
Fanuc M-6iB Robot
RJ3iB or R-30iA Control
Power cables
iPendant
Manual included
Overview
The FANUC M-6iB offers consistently high performance with production-enhancing features. The robot arm has 6 axes and a modular design with standard features that provide dexterity, durability, and high speed to the production line. For various applications and working environments, the M-6iB is the ideal solution. The short arm variant, the M-6iB/6S, is also available.
The M6iB can maneuver in narrow spaces with a slimmer wrist. Low cycle times can be achieved by increased axis rates and electrical servo drives.
 A greater work area and greater scope enhance versatility. The EOAT is easily incorporated by pneumatic and electrical connections on the J3 axis. The FANUC M 6iB has several mounting positions that allow even the hardest factory settings to be mounted and the robot can reverse to create an even bigger working surround. A FANUC-type material handling teacher is designed for the M-6iB. It has a broad LCD monitor and intuitive process control.
 We now have many robots for sales, the FANUC M-6ib at a price of $11,000. These units are coupled with the controller R-J3IB. Also available are FANUC R-J3IC/R-30ia modules. Every unit is tested and operated to assure that they are in working order. Welding packages, such as Lincoln Powerwave i400, Lincoln Powerwave 455M, and Lincoln Powerwave 655M are also available.
Universal Robotic Inc. also sells diversely used robots, such as the M-6iB which has been retrofitted. After a very intense refurbishment by the experts of Universal Robotic Inc., the renovated M-6iB robots are brought back to their original state. The assurance of high-quality goods is given for any new and used M6iB robots. Every unit is tested and operated. Have any more questions? Get a quote in 24 hours and have your questions answered! We look forward to selling to you!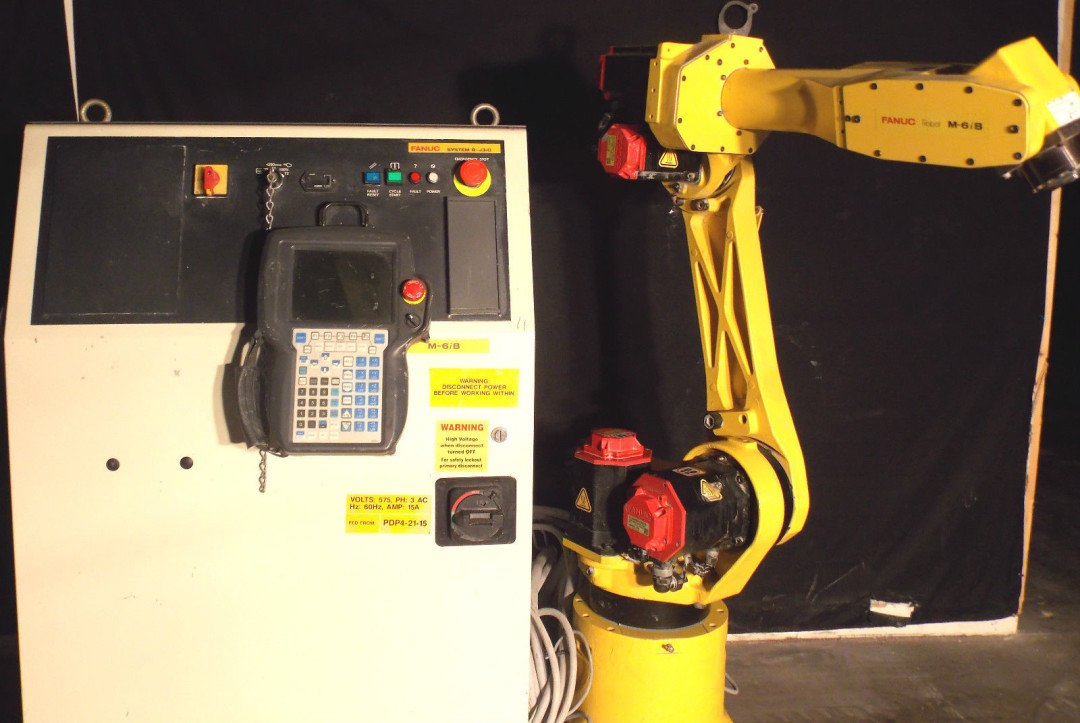 Fanuc M-6iB
Fanuc M-6iB
Robot Specifications
| | |
| --- | --- |
| Axes: | 6 |
| Payload: | 6 kg |
| H-Reach: | 1373 mm |
| Repeatability: | ±0.0800mm |
| Robot Mass: | 138 kg |
| Structure: | Articulated |
| Mounting: | Floor, Inverted, Angle |