Fanuc M-6iB/6S Robot Specifications Axes: 6 Payload: 6.00kg H-Reach: 951.00mm Repeatability: ±0.0800mm Robot Mass: 135.00kg Structure: Articulated
Unit Includes
Fanuc M6iB/6S Robot
Rj3iC/R-30iA Control
Power cables
iPendant
Manual included
Overview
The FANUC M-6iB/6S is a short arm for tight, confined spaces. The robotic arm of the M6iB/6S RJ3iB is used to treat products where parts sizes and envelopes are of little concern. The M 6iB/6S can perform acute, lightweight material handling with a repeatability of +/- 0.08 mm and a maximum payload capacity of 6 kilograms.
The FANUC M-6iB 6S robot was produced in Japan in 2006. Equipped with the R-J3iB controller from the FANUC system, this 6-axis robot has ideal conditions because its working times are very short.
The M-420iA and M-6iB/2HS robots with Fanuc V-500iA/2DV vision software as well as line tracks were designed to be flexible and speedy. Fanuc's V-500iA/2DV vision is used by the M-420iA robot to demonstrate the benefits of a visual line tracking device to randomly select three segments of a moving conveyor. Visual line monitoring offers flexibility for many goods to be handled on the same automation line, reduces time changes, and eliminates the need for expensive equipment. The robot M6iB/2HS uses line tracking to select pieces one at a time, and position every piece in a chute. The parts are dropping from the chute back onto the conveyor at random orientations and locations.
Also available through Universal Robotic Inc. are FANUC M-6iB/6S robots. The experts take great care that all used M6iB/6S robots are reinforced; in addition, we guarantee that the product is of as high a level of quality as possible to all used robots!
The assurance of high-quality goods is given for any new and used M6iB robots. Every unit is tested and operated. Have any more questions? Get a quote in 24 hours and have your questions answered! We look forward to selling to you! Well, what are you waiting for? Place an order right now!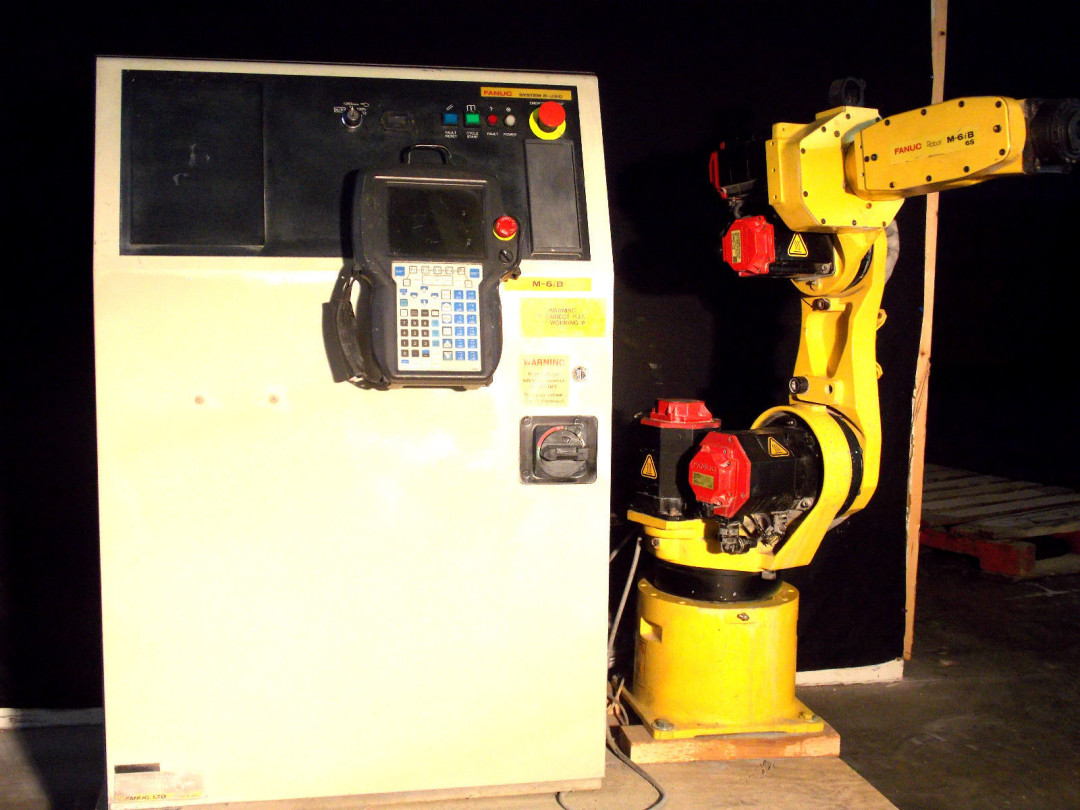 FANUC M-6iB/6S
Robot Specifications
| | |
| --- | --- |
| Axes: | 6 |
| Payload: | 6 kg |
| H-Reach: | 951 mm |
| Repeatability: | ±0.0800mm |
| Robot Mass: | 135 kg |
| Structure: | Articulated |
| Mounting: | Floor, Inverted, Angle |