In Stock FANUC M-710iC/45M Robot
This innovative series of lightweight robots is designed for handling applications in the medium payload range from 12 to 70 kg. Featuring a slim wrist, rigid arm and small footprint, M-710 Series robots are suitable for a wide range of applications and come with a reach of up to 3.1 m. High axis speeds make this series extremely fast. They also boast excellent payload capacities and inertia – With a vast array of models available, the FANUC M-710 Series is capable of covering a diverse range of applications.
Unit Includes
R30iB Control
Power cables
iPendant
Manual included
Overview
The FANUC M-710iC/45M robot is a medium payload robot capable of handling up to 45kg. This advanced M710iC/45M robot can perform applications ranging from assembly, packaging, to arc welding. The FANUC M 710iC/45M robot has a 2606mm reach and +/-0.1mm repeatability. If you are looking for a versatile robot to handle medium payloads, the FANUC M-710iC 45M robot is just what you need.
There are a number of controllers that can be combined with the latest and used FANUC M-710iC/45M: R-30iA, RJ3iC, R-30iB, and more! FANUC's M-710iC/50 robots are also refurbished by the experts at Universal Robotic Inc. Everyone undergoes a very intensive renovation process and comes at the best prices.
Contact us now to purchase one of these industrial robots!
Fanuc M-710iC/45M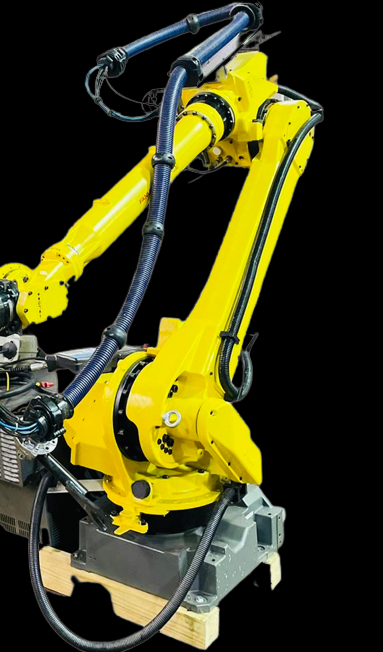 Fanuc M-710iC/45M
Fanuc M-710iC/45M
Fanuc M-710iC/45M
Fanuc M-710iC/45M
Robot Specifications
| | |
| --- | --- |
| Axes: | 6 |
| Payload: | 45.00kg |
| H-Reach: | 2606mm |
| Repeatability: | ±0.01mm |
| Robot Mass: | 570.00kg |
| Structure: | Articulated |
| Mounting: | Floor |