fanuc Lr Mate 200iD/7L – R-30iB Plus

2018 Fanuc LR Mate 200iD/7L – 80 Hours Only

The long-term version with a length of 911 millimeters in the Fanuc LR Mate 200iD sequence is the FANUC LR Mate 200iD/7L. The high-performance robot is a variant of long-range suited to various uses such as material handling, polishing, picking, and installation with a large work surface, such as a standard LR200iD.
Unit Includes
2018 Fanuc LR Mate 200iD/7L Robot
R30iB Plus Control
Power cables
iPendant
Manual included
Overview
The small payloads up to 7 kg can be handled very rapidly by a lightweight multi-use robot. With the ability to handle many parts and high performance, the 200iD/7L has increased the bracelet load.
 It is also the lightest mechanical system in its class, making it possible to install with a wide variety of options that are quite simple. The LRMate 200iD/7L R30iB can be fitted to small areas with a slim arm along with a hand cable and tube. It has also a number of state-of-the-art servo technology and a very rigid arm to continue smooth and minimal vibration operations.
There is a wide range of choices such as integrated smart features, special application packages, and standard IP67 security. This robot model is used in FANUC's own offline ROBOGUIDE apps. Roboguide is a versatile method for designing offline cells, structures, and motions for integrators, planers, and users.
With the R-30iB controller, R-30iB open-air cabinet, R-30iB Mate cabinet, or the R-30iB iPendant touch, the LRMate 200iD 7L is an excellent workplace addition if you want to improve your production. Our experts have carefully reviewed all robots bought from Universal Robotic, Inc., and the best rate for the quality of the robots has been given. We are now urging you to order now! You never know when the models are going to go out of stock. Have any questions? Contact us and get a quote within 24 hours!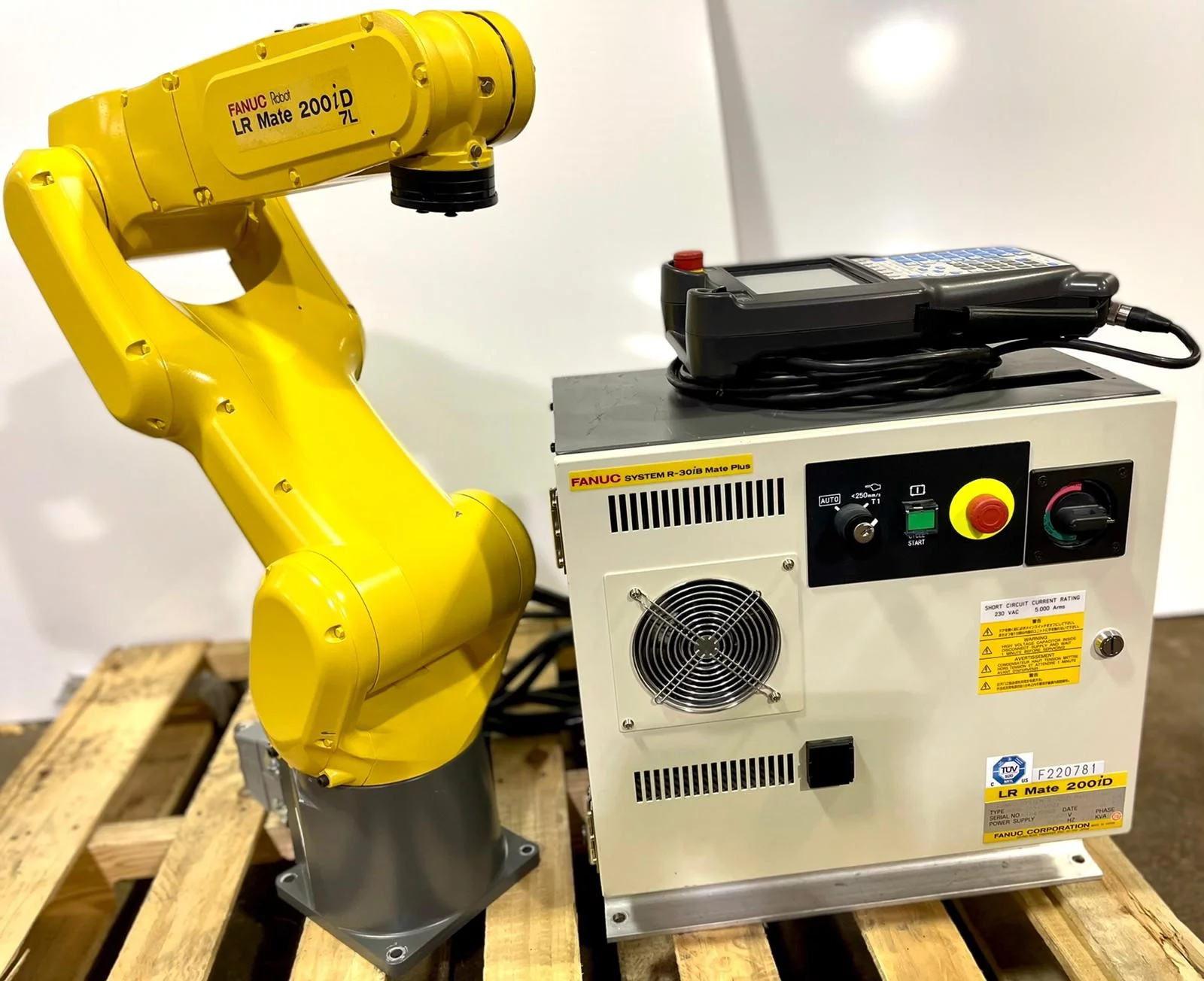 FANUC LR Mate 200iD/7L
FANUC LR Mate 200iD/7L
FANUC LR Mate 200iD/7L
FANUC LR Mate 200iD/7L
FANUC LR Mate 200iD/7L
Robot Specifications
| | |
| --- | --- |
| Axes: | 6 |
| Payload: | 7.00kg |
| H-Reach: | 911.00mm |
| Repeatability: | ±0.0300mm |
| Robot Mass: | 27.00kg |
| Structure: | Articulated |
| Mounting: | Floor, Inverted, Angle |